USHER IN THE MONTH OF NOVEMBER WITH FANTASTIC OFFERS
FIRST IMPRESSIONS COLLECTION SPONSOR OFFER
Valdity: 1st November – 11th December 2017
WELCOME PROGRAM 1X2
Invite 2 people to qualify for WELCOME PROGRAM STEP 1 and in return, get the First Impression Clutch valued at Rs. 1799 for Rs. 200!**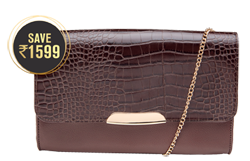 FIRST IMPRESSIONS CLUTCH
To stay ahead of the fashion parade, this brown coloured sling bag with gold toned chain sling is a must-have. The chic and stylish sling bag will jazz up your appearance. Crafted from PU, it assures durability.
Dimensions: 245 x 35 x 150 mm
Code: 29982
MRP: Rs. 1799
WELCOME PROGRAM 1X3
Invite 3 people to qualify for WELCOME PROGRAM STEP 1 and in return, get the First Impression Clutch & Handbag valued at Rs. 4298 for Rs. 200!**
FIRST IMPRESSIONS HANDBAG
Look absolutely stylish and appealing in this croc-patterned handbag. Featuring metallic branding along with tassels on the side, this handbag is exactly what you would love to flaunt everyday. The wide shoulder strap will let you carry it easily throughout the day.
Dimensions: 340 x 85 x 250 mm
Code: 29983
MRP: Rs. 2499
WELCOME PROGRAM 1X5
Invite 5 people to qualify for WELCOME PROGRAM STEP 1 and in return, get the First Impression Clutch & Handbag& Tote valued at Rs. 6797 for Rs. 200! **
FIRST IMPRESSIONS TOTE
Be it your formal office look or your casual shopping look, this croc-patterned tote bag will certainly do justice to both. This PU handbag is big enough to accommodate all of your essentials systematically without making it look too bulky.
Size: 310 x 100 x 365 mm
Code: 29985
MRP: Rs. 2499
**Price inclusive of taxes
Terms & Conditions:
Participation in this Offer is voluntary. By choosing to participate in this Offer, the participant hereby confirms that he/she has studied these detailed terms and conditions and agrees to be bound by the same
The qualification period for the Offer is valid from 1st Nov-11th Dec'2017
Only those Sponsors with new Consultants / VIP Customers who join Oriflame during the qualification period & complete Welcome Program step 1 during the qualification period (1st Nov-11thDec'2017) are eligible for this Offer under Sponsor Program
Offer Valid in Multiples from 5
Oriflame reserves the right to substitute the Sponsor Program Products for other similar products/Oriflame Products of equal or higher value in the event of out of stock situation
The decision of Oriflame as to qualification to the Offer shall be final, binding and non-contestable
Every person who desires to avail this Offer may do so pursuant to independent inquiry, investigation and analysis and shall not have any claim against Oriflame, its employees or other associate companies, vendors, whatsoever by reason of any loss which may be suffered by such person consequent to or in connection with this Offer whether by reason of anything stated or omitted to be stated herein.
The image of First Impressions Clutch, Handbag & Tote shown is only illustrative in nature and actual colour may vary
This Offer shall be withdrawn immediately from the participant in case of any violation of Online Registration Form (Previously called CAF) or Code of Ethics and Rules of Conduct, Success Plan, and such other communication as may be made by the Company from time to time. Any benefit received inadvertently or due to technical glitch will be recalled/ adjusted for/charged to the consultant as per Oriflame's discretion
In case any order is negated during the Qualification Period till the First week of C1, 2018, such a consultant shall not be considered for the purpose of Offer qualification
The Sponsors shall have to enter the sponsor benefit codes in special section on website while placing an order online in C1'18
These Terms and Conditions shall be governed by the Indian law and jurisdiction shall remain at New Delhi
Want to Join Oriflame under my guidance for FREE?
Click to Join Oriflame India
.  Please visit the link and provide correct and complete details to Oriflame. You will get your Sponsor number by email. If you didn't get a call within 24 hours, call the number given to you as soon as possible. Your sponsor will guide you and help you to place your first order. Do not place your first order without contacting your sponsor. If you place your order incorrectly, you may face some issues which can't be resolved easily. You may be penalized..
You have to place your First order asap, your account will be terminated if you don't place your order within 60 days of joining
If you are a Boy and want to Join Oriflame? Please
visit this link
and perform above steps.
Must Check These:
Do Like Us On Facebook, Follow US on Twitter, Pinterest, Roposo and Google+. Subscribe our Youtube Channel and Oriflame Offer Feeds. If you have any question, then, ask me in comment section 🙂
Do Share this "Oriflame Recruitment Campaign November And December 2017" with your friends on Whatsapp, Facebook, Twitter, Google Plus, Pinterest and many other social networks. So, they can read it 🙂
Bhumika
Oriflame Manager
Subscribe & Stay updated with latest offers
Oriflame Recruitment Campaign November And December 2017